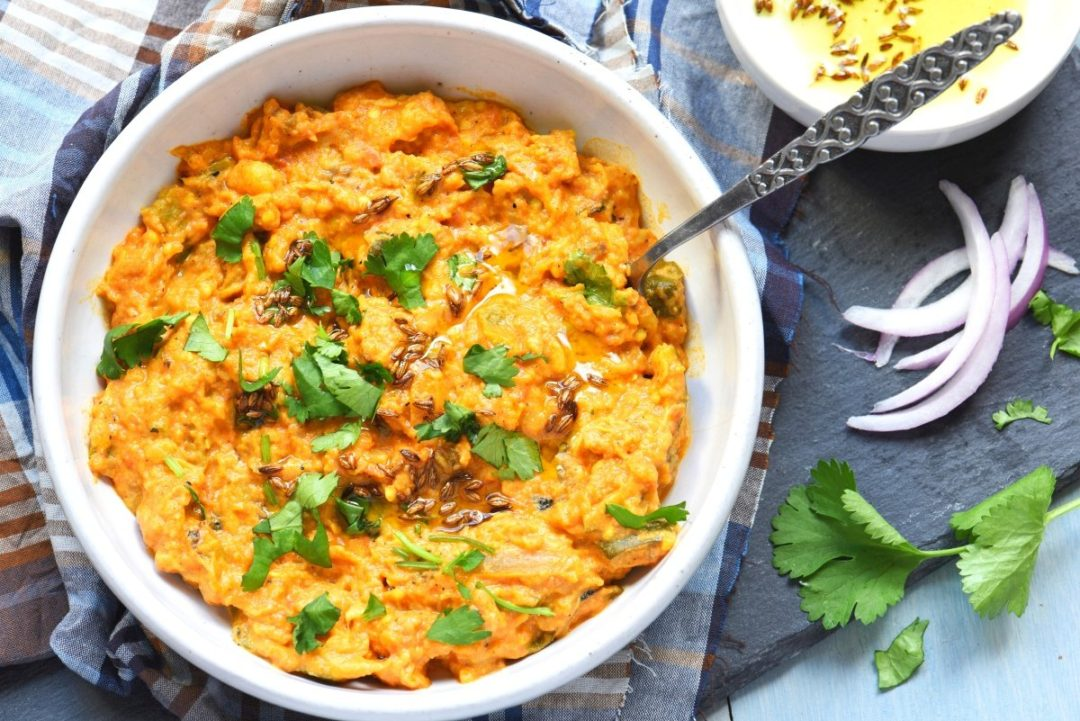 Try this as a savory vegetarian meal or have it as a side-dish with baked chicken.
Ingredients
4-5 zucchini/summer squashes, chopped
1 large eggplant*, chopped
1/2 bell pepper (optional)
1 medium onion, peeled and sliced
3-4 big sour tomatoes, chopped (or marinara. Recommend Rao's sauce)
1 taro root (arbi), peeled and diced (optional)
2″ piece of ginger, minced
2-3 cloves of garlic, minced (optional)
up to 1 glass of water
1/2-3/4th cup heavy cream
Ghee or avocado oil
1/2 bunch cilantro, chopped
spices: 1/2 tsp turmeric, 1 tsp cumin
Method
Warm 2 tbsp ghee in a pan. Add ginger, garlic and saute for 1 minute. Add all the spices and cook for 30-40 seconds or until they start crackling.
Add tomatoes and onions. Cook for 7-10 minutes on medium heat.
Add remaining vegetables
Cover and cook on medium heat for 45-60 minutes. Stir every 10-15 minutes and add water to prevent vegetables from sticking to the bottom.
Peel and dice taro root. Cook in a pressure cooker, separately, until soft. Mash with a fork when done.
Add taro root and heavy cream to the vegetable mix. Cook for another 10-15 minutes or until all vegetables are fully cooked. May add water to thin it to the desired consistency.
Garnish with cilantro.
When ready to eat, add 2 tsp of ghee or butter to it.
Notes
Eggplant sometimes can take a long time to cook. For a smoother consistency, cook it separately in an oven. Wrap whole eggplant in foil and bake at 400 F for 1 hour. Peel and mash after baking. Add to the vegetable mix.