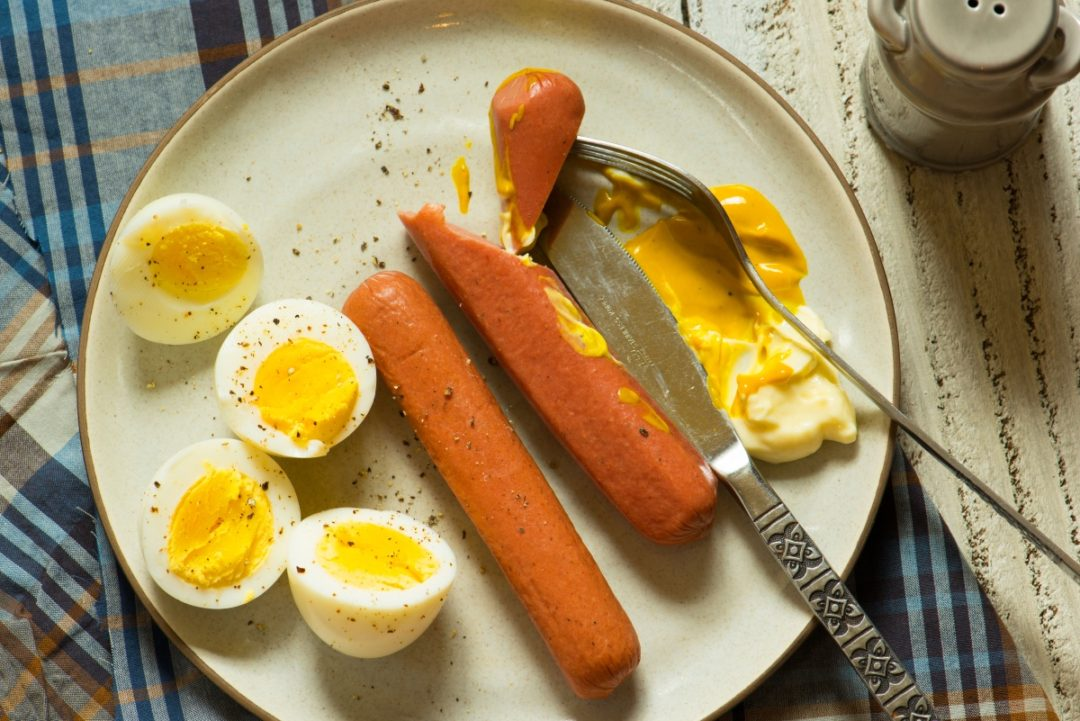 Mornings can be rushed but don't let that make you grab an unhealthy breakfast. Pre-prepare your breakfasts on the weekend, so you have something to eat quickly in the mornings. These low-carb breakfast ideas will help you stay full and avoid that scone or muffin at the coffee shop.
Meals
Eggs: boil 20-30 eggs on the weekend and refrigerate them. In the mornings, just grab 2-3 eggs, add mayo or sour cream, and enjoy. Feel free to add salt and pepper. Or combine eggs with bacon-strips or avocado.
Omelet: (see recipe) On the days that you have some more time, beat up 2-3 eggs. Add fresh or warmed frozen, chopped vegetables, heavy cream and make your omelet in butter. Pair this with avocado.
Omelet paleo (coconut) wrap: Line a coconut wrap (e.g. Nuco, Julian, Pure Wraps) with lettuce leaf. Apply home made or Primal Kitchen mayo. Place omelet in wrap and top it with sliced onions, avocado, tomato, herbs.
Chicken soup: Can be prepared in advance and stored in fridge for 3-5 days.
Cold fish: Cook extra the previous night, whenever you have fish for dinner, and store it in the fridge for the next morning.
Cooked shrimp: Can be bought frozen and placed to thaw in the fridge the night before.
Uncured sausage: Slice and saute in avocado oil with diced onion.
Bacon strips: Can be prepared in the microwave. Place on paper towel on microwave-safe plate and microwave 2 strips on high for about 60-90 seconds (or see times listed on package).
Whipped cream: have it with a small amount of fruits and nuts. Add dark chocolate if you like.
Double cream: eat it with a small amount of fruits and dark chocolate. 
Chia pudding: See recipe.
Flavored nuts: Warm some coconut oil or butter in a pan on low-medium flame. Add spices of your choice (examples: pumpkin spice, cinnamon, ginger, curry powder, chili, lime juice, black pepper). Add nuts and cook for 2-4 minutes on low heat. Cool for 30-40 minutes
Curried vegetables (cauliflower, squash) with avocado (see recipe) and coconut chutney (see recipe)
Beverages
Tea with heavy cream. Cream makes the tea more filling, so you do not feel hungry for a long time.
Coffee with cream (use heavy cream, NOT half-n-half, and NOT milk)
Hot chocolate: Add one 100% dark chocolate square, 1/3rd cup water, and 1/2 cup heavy cream to a cup. Warm in a microwave for 30-40 seconds. Repeat 3-4 times or until chocolate has completely melted, with stopping to stir the chocolate. Add 1/2 tsp of honey and enjoy.
NOTE: Product brands mentioned are only examples, feel free to use other brands with equivalent ingredients (make sure to check the label to avoid accidental carbs).