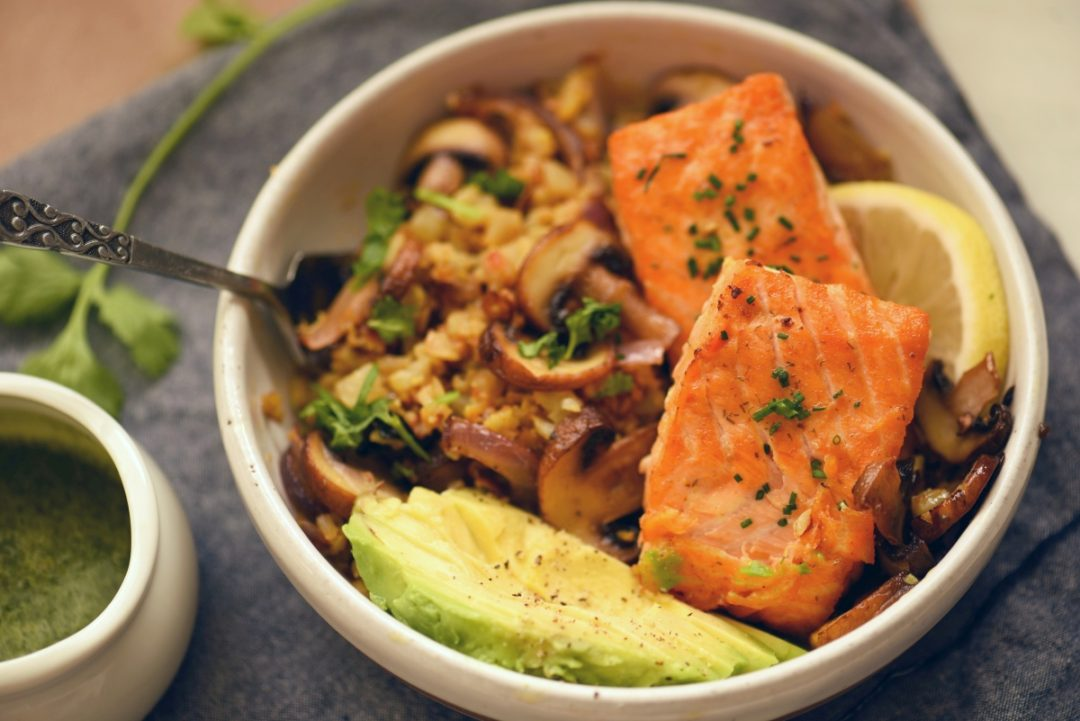 Ingredients
2 cups cauliflower rice (store bought 'cauliflower rice' or 1/2 head of cauliflower pulsed a few times in a blender to chop coarsely)
avocado oil
5-6 mushrooms, sliced
1/2 onion, thinly sliced
1 tsp ginger, minced
2 garlic cloves, minced
1/2 lb salmon
2 tsp curry powder
1/2 tsp salt
1 tsp marinara (low carb marinara: Rao's sauce)
cilantro, chopped
For mint chutney:
15-20 mint leaves
1/2 bunch cilantro
1 tsp ginger, minced
1/2 lemon, squeezed
1/4 tsp salt
1 tbsp heavy cream or sour cream
1/4 cup water
Method
Cauliflower rice:
Heat 3 tbsp oil in a pan.
Add curry powder, 1/4tsp salt, marinara, cauliflower rice, 1/2 tsp ginger, 1 minced garlic clove to it.
Cook for 7-10 minutes or until golden brown. Set aside.
Heat 1.5 tbsp oil in a pan and add mushrooms and onions to it. Saute for 5-6 minutes or until golden brown.
Mix mushroom-onions with cauliflower rice
Salmon:
In a bowl, pour 1 tbsp oil. Add 1/4 tsp salt, 1/4 tsp curry powder, remaining ginger, and garlic. Coat salmon with the mixture.
Heat oil in a pan. Transfer salmon to it and cook for 5-6 minutes on medium-low on each side until salmon is golden brown.
Mint chutney: 
In a small blender, put all the ingredients and pulse until a smooth dip is formed. Make it paleo by skipping cream.